Child's First Appointment In Waterdown
When children visit a dental office for the first time, it lays the foundation for oral health that will last a lifetime. Also know what pediatric dentists suggests during child's first appointment.
A Lifetime Of Smiles Starts With A Good Foundation
Give your kids a great start building good oral hygiene habits and monitor their progress as they grow into their beautiful smiles. We understand how challenging and rewarding family care can be and kids need extra special consideration. Having a healthy smile is such an important part of childhood, let's get them started on the right path with guidance that's personalized for their needs.
Getting Ready For Your First Appointment
Feel free to talk to your child about the upcoming trip to the dentist. The main purpose of your child's first visit is to relax, have some fun, and start building a positive relationship with the dentist. Sometimes, not knowing what to expect can make people feel a little nervous. Here's what your child can expect during their first appointment: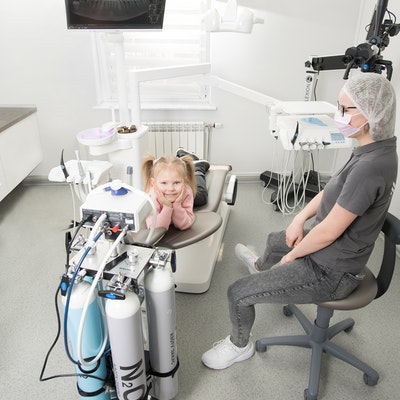 We will talk to you and your child, explain what we're going to do and why and familiarize your child with some of the tools we use. We speak in kid-friendly language and explain any lingo so they can feel as comfortable and assured as possible. See! We're not so scary after all.
We will gently examine your child's gums, tongue, teeth and overall health. Our exam will uncover any areas of concern or tricky spots that may need some extra attention at home. We will provide you with personalized guidance and make a note to pay special attention to those spots during the next appointment.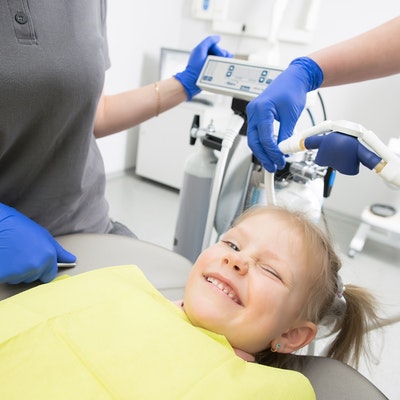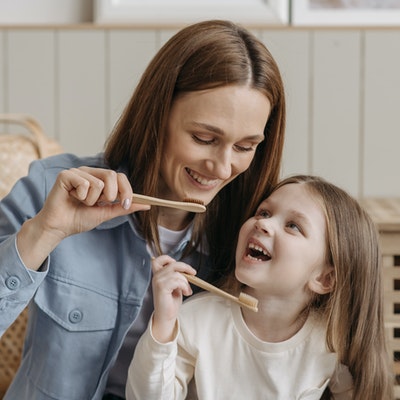 We might ask your child to show us how they brush their teeth and then give them gentle instructions on how to improve brushing their teeth at home. We would love to answer any questions you or your child have about dental health.
Need A Child's First Appointment Appointment? Call Us  or Book Now.
Frequently Asked Questions
At what age should I bring my child to the dentist?
Your child will start to cut their first teeth at around 6 months. It is recommended that children visit the dentist by the age of 1 or within 6 months of getting their first tooth. If you suspect something might be wrong or your child might be experiencing discomfort or pain, please book an appointment as soon as possible. It's never too late for a child to have their first dental appointment.
Why do primary teeth matter (even though they fall out)?
Baby teeth are no less important than adult teeth. Parents should understand that baby teeth do so much more than hold space in the jaws for permanent teeth. Children's teeth can permanently affect how their face appears, how they smile and how often they smile. Children who are free to develop confidence and smile big in their early years tend to hang on to those habits. Dental pain, even mild pain that children learn to normalize, will have a lasting negative impact on children's eating habits including how they chew, what kind of food they prefer and how much food they eat.
How long will my child's first appointment take?
The length of the appointment will depend on the needs of the child and how cooperative they're feeling during the exam. That being said, an appointment typically lasts about one hour.
How often should my child visit the dentist?
After your first appointment, your child should come to the dentist as frequently as you do. We recommend a checkup and cleaning every 6 months unless otherwise specified. If your child has a tooth or jaw ache if you notice them rubbing or nursing their jaw a lot or if you notice them avoiding hard or cold foods please book an appointment sooner.
Why is gum health so important?
Your mouth isn't just your teeth. It's a whole system including teeth, tongue, gums, cheeks, glands, ligaments, joints, bone and more. When one aspect of your oral health sugars, your whole mouth suffers. Swollen itchy, sore or bleeding gums can be an early indicator of a much more serious problem.