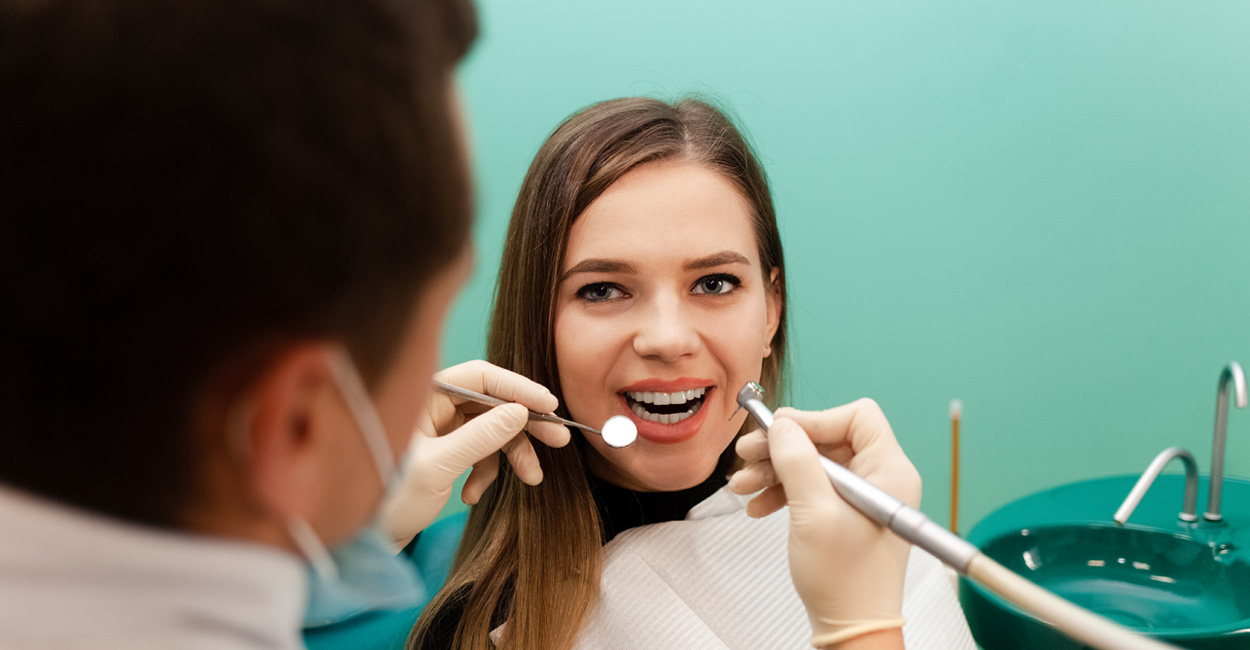 22

Aug
Gum Recession: Its Causes and Treatment
A receding hair line and a receding gum line – both are equally catastrophic, but the latter can pinch you real bad !! 
Gum recession is scientifically called gingival recession. This condition causes the gums to progressively recede, exposing the roots of the teeth. The tooth root is delicate and hurts if it comes into contact with food and beverages. If you're looking for teeth cleaning in waterdown you are at the right place.  
Gum disease: What you need to know!
Gum diseases in general are insidious in nature. They often go unnoticed until they are beyond repair. Statistics by the Canadian Dental Association show that seven out of every ten Canadians suffer from some form of gum disease. Thus, visiting your dentist periodically is of utmost importance.
Why is your gum receding?
You are not brushing your teeth correctly! Brushing too hard or scrubbing them does more harm than good.
Plaque and calculus deposits irritate the gums. The gums loosen and get pulled away from the teeth.
Smoking is detrimental to the gums and increases the tendency of plaque formation.
You did not get your dental aligners on time; crooked teeth lead to unhealthy gums.
Grinding your teeth while sleeping or clenching them while exercising? Better watch out!
Hormone fluctuations in women; puberty, pregnancy, and menopause can take a toll on your gums!
Genetic predisposition – gum diseases run in the family. You can genetically have a thin gum type; this makes you more prone to gum recession.
Diabetes
What are the symptoms of gum recession?
The exposed roots of the teeth develop hypersensitivity to hot, cold, and sour foods.
Gum Bleeding: The gums bleed frequently after brushing, flossing, or biting on hard foods like apples. The gums are sore and sensitive.
The teeth are stripped off the gums, making them look unesthetic
The underlying bone loss eventually causes loose teeth.
Gum recession can be identified in many ways:
Now that you know the symptoms, watch out for them.
You can consult us online. The platform is called Magnolia Dental It is a user-friendly online website.
We help you become more familiar with the most common gum recession risk exposures and susceptibility factors. We will help you understand your gum health better, but the online tool cannot take the place of a professional dental visit.
With routine visits to us, your dentists, gum recession can be detected early. Come and visit us!
We at Magnolia Dental, Waterdown, will take the necessary X-rays and scans.
How do we fix your receding gums?
There are two ways to approach it :
Magnolia Dental, Waterdown,
believes in starting with a conservative approach.
1. Conservative measures to prevent gum recession from getting any worse:
Brush correctly. A gentle circular motion of brushing is the best. 
Scaling and polishing periodically.
Oil pulling: an East Indian practice that dates back a thousand years, is trending in the West now. This practice involves swishing a spoonful of coconut/sesame oil for about 10–15 minutes before brushing your teeth in the morning. It pulls out the sticky bacteria and keeps the gums supple.
Quit smoking
2. Gum recession can be reversed surgically in the following ways:
We will recommend the best treatment option for you. A few of the procedures include:
Flap surgery: in this, the gum is raised as a flap, and the infection beneath is cleaned.  The flap is then moved back into its original place to cover the tooth's exposed root surface. 
Grafting: increases the bulk of the gum tissues by using skin grafts. Tissue grafting, unlike its name, is a quick, simple, and painless procedure. We either add a small piece of our own gum or a commercially available biocompatible bone graft powder.
In laser surgery, or LANAP (Laser Assisted New Attachment Procedure), the infected tissue is cleaned off debris using a laser beam. It has almost no bleeding, mild pain, and a quick recovery time.
Gum recession can be corrected if detected early. So, please make an appointment with us at the earliest!