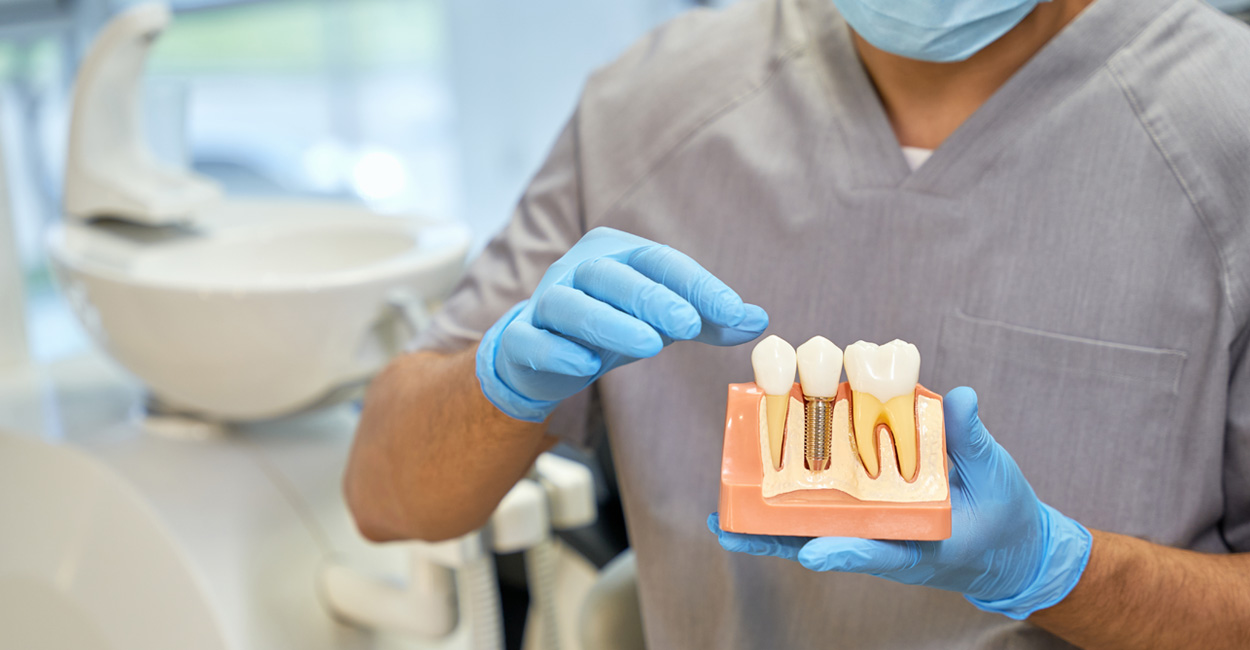 09

Dec
Must Know Reasons for Dental Implant Failure
Whether you want to get your single or multiple teeth replaced, a dental implant can restore your natural and beautiful smile while enhancing your quality of life. They function as an alternative to dentures, crowns and bridges and have a great acceptance and success rate. However, there are some factors that may cause implant failure. Cases of implant failure are rare, but may cause complications if left untreated. Here, we have discussed these factors so that you can make an informed decision before considering a dental implant as your treatment option.
7 reasons why your dental implant may fail
1. Malalignment of the implant:
This is one of the challenging aspects of placing an implant. The implant should be surrounded by healthy bone. However, in several cases, the ideal position of the bone might not be the ideal position for the implant. This eventually leads to an unnatural appearance along with receding gum line. The dark gray metal line might get visible around the implant.
However, rectifying the wrong placement may get a little tricky for dentists. As the removal process may injure the surrounding bone or adjacent tooth.
Our experts at Magnolia Dental in Waterdown are experienced enough to deliver the best possible results for restoring your smile.
One of the primary concerns for the health of your implants. This may happen due to excessive biting force, para functional habits (teeth grinding) and due to insufficient occlusal surface.
You can surely mitigate the chances of implant failure by correcting the occlusal overload and by getting timely treatment for bruxism. This way you can avoid implant failure.
A disease that results in the inflammation of soft tissues surrounding the implant. This can significantly deteriorate the bone around the osseointegrated implant. Poor oral hygiene, smoking, and other factors like periodontitis or diabetes may also increase the risk of implant failure by multiple times.
Even if you take care of all the above-mentioned factors, you may suffer from pain, swelling, loosening of the implant fixture or redness and discomfort at the implant site. Inadequate methods and the unavailability of superior materials also play a significant role in implant failure. That is why checking the accreditation of your concerned dental office before proceeding with implant placement is necessary.
5. Overall health and wellness:
As per our experts, the condition of your overall oral health can also influence the success rate of implant placement. Any pre-existing health condition(diabetes, high blood pressure) or if you take any medications that have a detrimental effect on your bone may lead to implant failure.
At Magnolia Dental, our experts will guide you in taking care of your oral hygiene during post-implant placement. This can increase the longevity and success rate of your implant.
6. Poorly taken impression:
After placing the implant fixture, your dentist can take the oral impression and send it to the lab for making crowns. If the impressions are not taken properly, the crown might not fit. This will result in a gap between the crown and gum line. And make the implant more prone to infection and eventually lead to implant failure.
This happens among those who wait for a too long time after tooth loss or tooth extraction. Without any tooth, the jawbone around the problem area gets weakened and degraded, making it difficult for dentists to place an implant.
Your dentist may suggest eating a healthy diet enriched with calcium, vitamin C and vitamin D along with cutting down on bad habits like frequent smoking, eating junk and sticky foods or overeating. As this may ultimately lead to plaque production and reduced bone mass, causing implant failure.
Frequently Asked Questions
How do I know my implants are failing?
Although there are multiple factors that can cause implant failure, the signs and symptoms are the same for all. Here are a few common signs that indicate a failing implant. 
Pain or discomfort around the implant
Redness, and swelling at the site
Loosening of the implant fixture within bone that shows a lack of osseointegration.
Why there is a 3-6 month waiting period before the final implant crown is placed?
The implant gets attached to the surrounding bone by a process called osseointegration. The bone attaches itself to the metal/ceramic implant surface to provide firm support over the month or years.
What can you do to avoid a failing implant?
Having an implant failure in your mouth may seem scary. However, the good news is that you can avoid a failing implant with easy and simple steps such as
Taking good care of your oral hygiene
Brushing and flossing twice daily
Avoiding hard and sticky food items
Dietary changes and including Vitamin C and calcium
Apart from these, visiting your dentist at an interval of every three to six months can keep you away from any issues that may harm your implant. Here at Magnolia Dental, we employ cutting-edge technological innovations to provide quality services and long-lasting dental implants to our patients. If you have any queries or to schedule a consultation with our experts, call us at 289-780-4609