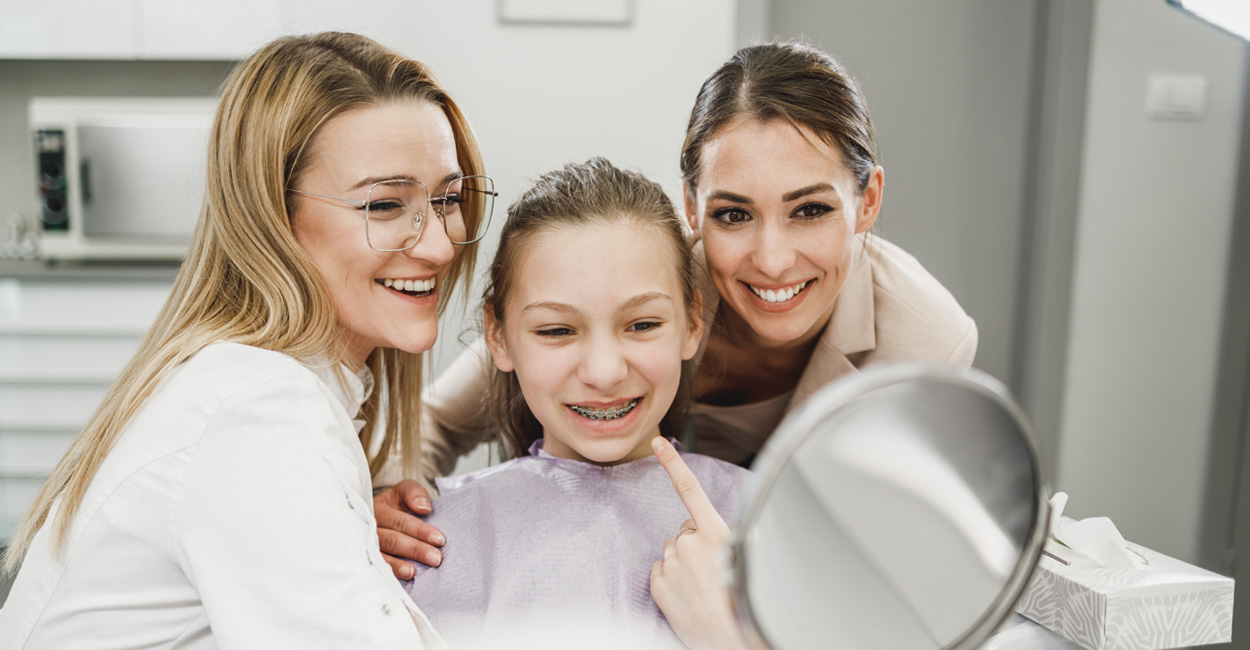 10

Nov
5 Benefits of Having Braces
The use of dental braces dates back to the 18th century AD. They are used successfully to correct unfavorable tooth alignment. The development of the nickel-titanium (Ni-Ti) metal alloy by NASA marked a significant advancement in the field of teeth straightening. Ni-Ti was ideal for producing fine, supple wires that could hold their shape after being bent and affixed to the teeth.
At first glance, all braces seem the same, but there are small differences between them. Would you believe it if you were told that there are over 5 types of braces that the dentist has to offer you? Metal braces, metal self-ligating braces, ceramic braces, lingual braces, and so forth.
In contrast to braces, clear aligners are more aesthetically pleasing and comfortable to wear, but they also require the patient to put in some effort. The patient must change their aligners once a week and wear them for 20 to 22 hours per day.
1. Teeth straightening and bite correction
The crooked teeth are straightened with braces. Cross bites, overbites, under bites, and open bites are examples of misaligned teeth. They often cause unintentional cheek bites and tongue bites, which are immensely painful. Well-arranged teeth in an ideal position are both esthetically and functionally beneficial.
Misaligned, crooked teeth often overload certain segments of the jaw, leading to a difficult bite, jaw pain, and joint disorders. Well-arranged teeth evenly distribute the chewing forces. A corrected bite is functionally healthier.
Your teeth will gradually move into their ideal alignment as a result of braces. They help achieve that Hollywood smile you wanted. Your appearance, self-esteem and social interactions will improve as you become more confident.
The clarity of pronunciation greatly depends on your teeth. So speaking clearly can be a challenge if you have crooked teeth. Braces can help you speak more clearly by shifting the positions of your teeth. Realigning the jaw or teeth gives your tongue more room to move, which lessens slurred speech.
4. Better gum health, fewer cavities, fewer risks of tooth injuries, reduced risks of temporomandibular joint disorders, and maintenance of the jaw bone and muscles:
Crooked or misaligned teeth are more prone to trapping plaque and food particles. As a result, bacteria can grow and eventually infect the gums. With braces, your teeth are straight, making it simpler to brush and floss them. As a result, less debris is trapped, and bacterial growth is reduced to prevent gum disease. Wearing braces can help prevent tooth decay by aligning the teeth, so they are easy to clean and maintain.
Protruded teeth are precariously placed and prone to accidents. Braces are important in preventing such mishaps. A corrected bite with uniform chewing forces does not stress the temporomandibular joint and the surrounding muscles. The bones, muscles, and teeth function in harmony.
5. Efficient chewing of food: an aid to digestion
Your mouth cannot properly chew food into tiny bits if your teeth are crooked. Smaller food particles are easily digested. As digestion improves, so does your overall physical and mental health. The misalignment of the teeth and jaw leads to jawbone deterioration. When teeth lack an opposing tooth structure, the jawbone loses stimulation, which can result in bone erosion. Patients with missing teeth frequently experience jawbone erosion. A perfect, balanced bite can be achieved with the aid of braces to prevent such consequences.
Book a dental appointment for braces and clear aligners easily through our website, or just give us a call and speak to a member of our team who will be happy to assist you. Magnolia Dental is the winner of the Best Dental Services Award. Have a look through our patient testimonials to see why so many have picked Magnolia to be their dentist in Waterdown.