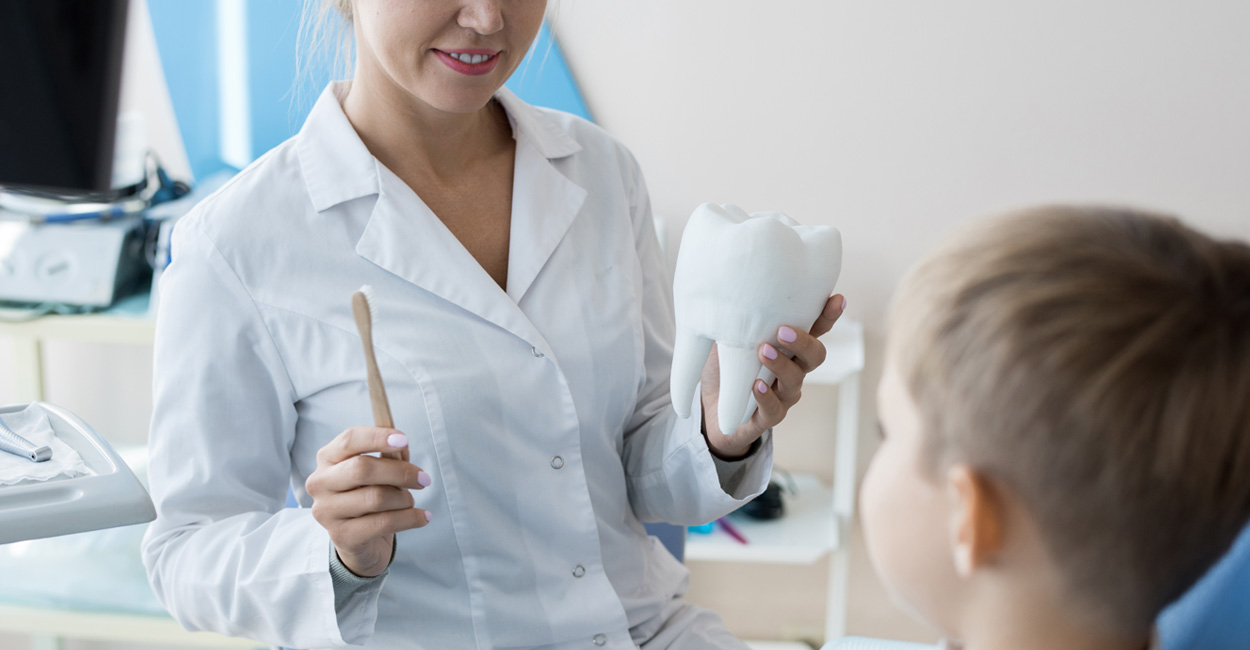 25

Jan
What Experts Say About Kids Dentistry?
Cavities or dental caries are one of the most common chronic diseases for kids. As per experts, more than 50% of kids have caries in their primary teeth. However, there is good news! Dental caries or cavities in primary teeth are preventable. And a kid's dentist can save your child's teeth from an early age itself. As a parent, you might ask if your child needs an entire specialty of dentistry when they begin to have oral problems. The answer will be 'yes'. However, you may consider your family dentist for your child as well. As per our expert dentist, Dr. Bajaj, our children require special care and attention to their changing oral needs as they grow up. Read this blog post to understand what makes a kid's dentist different from other dental experts.
As per the ADA and the American Academy of Pediatrics recommendation, all kids should have a dental visit after their first birthday. Any child starting from their infant age should receive dental care from a pediatric dentist.
What do pediatric dentists do?
As per the old saying," prevention is better than cure" that exactly fits in for kid's dentistry. Pediatric dentistry mainly focuses on preventive dental care. The areas where kid's dentists play a unique role are-
Treating tooth cavities: Children are more prone to developing caries than adults. Children between the ages of 6 to 14 years are at the highest risk. If your child is suffering from tooth cavities, a kid's dentist can take care of your child and treat such problems effectively.
Providing preventive tips: Kid's dentistry is majorly based on how you can prevent developing caries in your child's mouth. Children's dentistry uses different preventive approaches including dental sealants, professional tooth cleaning for kids, and fluoride application. With proper care from our kid-friendly dentists, you will always be a step ahead when it comes to taking care of your child's oral health.
Assess nutritional intake: Have you ever tried to keep your child over healthy eating? You must have faced challenges while doing so. They always prefer sugary and crunchy food items that are not at all healthy for their overall health, let alone their oral health. In such situations, getting assistance from a kid's dentist can be of great help. At Magnolia Dental, our dentists love to train your child to build better oral care habits and healthy eating starting from an early age.
Treating dental emergencies: The carefree attitude of a child makes them more prone to dental-related accidents and injuries. Handing a pediatric dental emergency takes a skilled and steady hand with good dental knowledge that can navigate swiftly through your child's mouth. Our dentists are skilled enough and ensure better care and handling of kids' dental emergencies.
Develop oral hygiene habits:  Starting from a very early age, your child may struggle with taking care of their oral hygiene. They might learn this very fast, but may struggle with maintaining consistency with it. A kid's dentist is well-versed with the tips and techniques of how to incorporate such oral care habits so that your child can keep up with oral care routine in the long haul.
Why should you consider a kid's dentist for your child?
Aside from the above-mentioned benefits, a dental practice that offers children's dental care is specially designed to make your child feel safe and comfortable. A kind and gentle approach to treating a kid can ease your child's dental phobia or anxiety. This fear factor is such a thing that many older children may benefit from seeing a kid-friendly dentist. They are also trained to treat children with special needs such as autism, ADHD, or with behavioral disabilities.
The earlier you start building a relationship of trust between your child and the dentist, the better it will be for their oral health.
At Magnolia Dental, we provide a kid-friendly atmosphere that can ease your toddler's path to the dental chair. Our staff always makes an extra effort to make sure that your child feels safe and comfortable in our dental office. This helps them to conquer their fear of dentistry. An in-depth understanding of a child's oral anatomy along with child-friendly dental care and services is what makes us unique and best for your child's oral health.