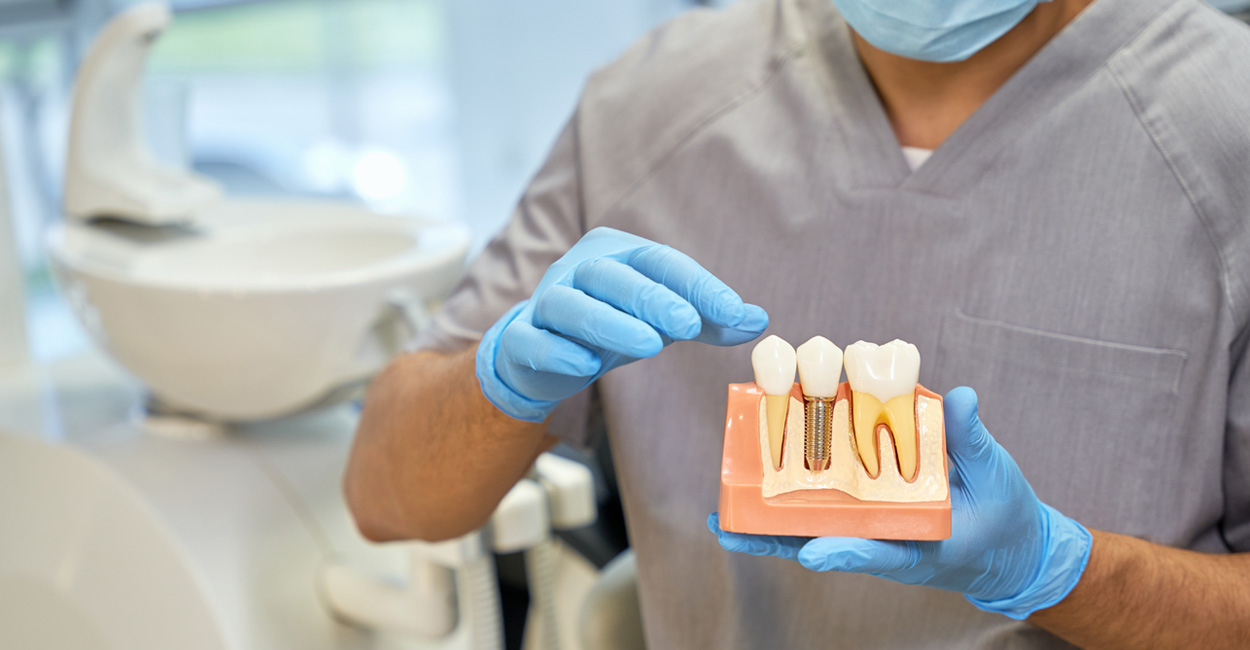 23

Sep
Dental Implants for Tooth Replacement
A dental implant, also known as a tooth implant, is a tiny, sterile fixture that is placed in the jaws to replace a missing tooth. It is the most advanced and expensive component of functional and cosmetic dentistry.
Do you have a tooth that hurts or has significant decay? If so, your dentist might advise getting a root canal or a dental implant to address the problem. A root canal treatment involves taking out the diseased pulp and replacing it with a new filling. If necessary, you can add a dental crown to this procedure. On the other hand, a dental implant needs the infected tooth to be replaced with a titanium implant and a dental crown to be screwed on so that you can chew normally.
You cannot compare these two options because a dental implant is suggested for teeth with a poor prognosis. That is, the decayed/fractured tooth is beyond repair.
Magnolia Dental is accepting new patients and would love to help you with your dental implant options at the best price.
This will be a fun blog with lots of doubt solving info! Let's begin… 
Is a dental implant safe?
Yes! No doubt
Indicators of its safety include:
The primary material used in dental implants is titanium, which is strong, biocompatible, and inert (also used in pacemakers and stents). Its non-allergenicity has been widely established.

The dentists at

Magnolia Dental

are trained, experienced,

and licensed dental implantologists; they are the best to be with.
When is the best time to get a dental implant?
There are one or more teeth are missing.
Wobbly teeth dentures.

 

To avoid needless tooth grinding of adjacent teeth for bridges and crowns.
Is a Dental Implant Painful ?
The implant surgery is carried out painlessly under local anesthesia.

The injection sting feels like an ant bite.
The prescribed medications will manage the pain and recovery following surgery.
How are dental implants inserted?
Unlike root canal treatment, a dental implant procedure is a set of 3-4 widely spaced appointments over a period of 3 – 4 months. A temporary tooth is placed in the meantime for functional and esthetic purposes. 
A local anesthetic injection is used to numb the affected area, and subsequent drilling is used to prepare it.

After the drilling site is prepared, the implant is placed there, and 3 to 6 months are given for healing.

 

During the waiting period, a provisional denture is given.
After 3 to 6 months, if the dental implant is well integrated with the bone (as seen in the x-rays), the implant is accessed, a gum former is positioned, measurements are taken, and the case is sent to the lab.
The implant crowns are delivered thereafter.
How Do You Take Care Of Your Dental Implant?
In the same way you would take care of your natural teeth! 
Brush and

floss t

wice a day.
Gargle and rinse after every meal. Do not forget to rinse after a quick snack.
Avoid smoking. The negative pressure in the mouth while smoking, along with the nicotine, can cause havoc to the healing of a dental implant.
Periodic dental checkups.
Can a dental implant fail?
Rarely.
Studies show a 90%–95% success rate of implants over a 10-year period. The failure rates are low and, if at all, it happens, it can be amended.
Factors affecting dental implant failure :
Gum disease and uncontrolled diabetes.
Smoking
Grinding one's teeth (bruxism).
Corrosion, and screw loosening
Idiopathic
Why Do Dental Implants Cost So Much?
You are primarily paying for the implatologist's training and experience. It takes years of rigorous coaching to work in this precise and technical field.

The bio-friendly, tiny implant components are expensive.

 
Quick tip: Find out if your health insurance covers the cost of dental implants!  
Benefits of a dental implant:
Replaces missing teeth without reducing the size of nearby natural teeth or capping them.
Increases the retention of your loose dentures.
Crowns are still an option for people without natural teeth for support.
The best cosmetic choice.
Excellent success rates.
Latest technology in dental implant treatment:
Oh yes! Dentistry can now give a prosthetic cap over the dental implant on the very same day.
The clinic has an in-house digital scanner. Digital dentistry is booming in Canada. The 3shape TRIOS wireless impression scanner can take a quick scan of the dental implant and send it to the lab technician.
Dental Implant Crowns and dental Bridges are available in highly esthetic and completely metal-free zirconia/ceramic options.
A dental implant is probably the only long-term fix for a missing tooth. A successful implant requires a skilled implantologist, a tech-savvy technician, and a motivated patient. Book a dental appointment easily through our website, or just give us a call and speak to a member of our team who will be happy to assist you. Magnolia Dental is the winner of the Best Dental Services Award. Have a look through our patient testimonials to see why so many have picked Magnolia to be their dentist in Waterdown.